A fountain pen that is 45,000 years old? No. But the wood used is indeed that old in the Timeless Wood. A high quality fountain pen from ONLINE with special wood.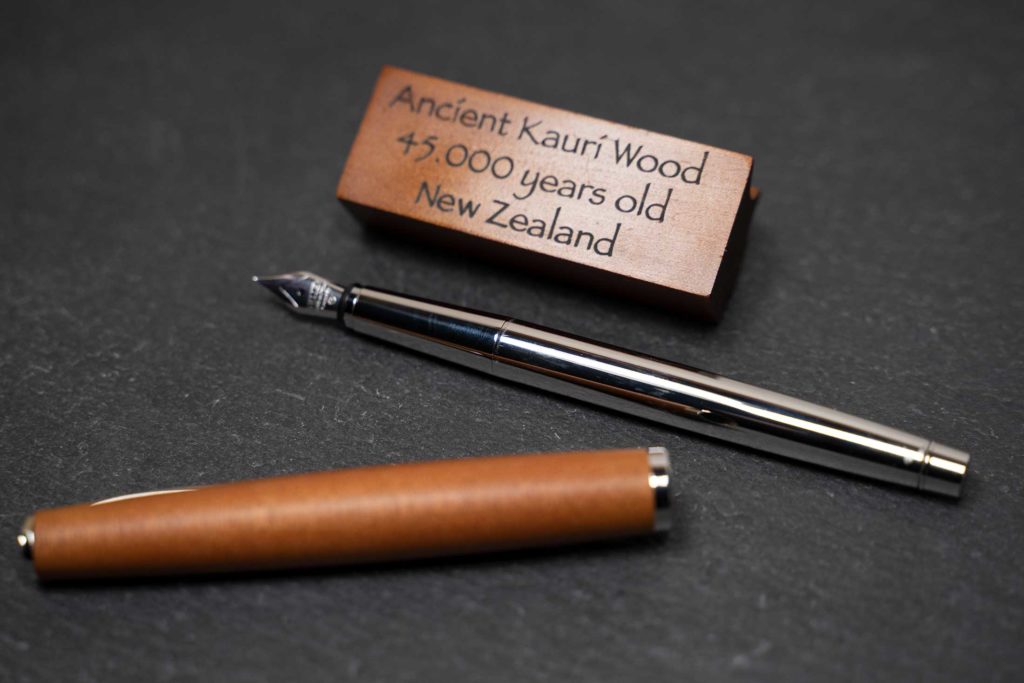 The company ONLINE has several fountain pens in its assortment, from inexpensive school fountain pens to high quality fountain pens with gold nib. Here we have a fountain pen that is clearly from the high quality range. This is immediately apparent. The high-quality box alone gives this away.
The online Timeless Wood unpacked
When you receive the Timeless Wood, the first thing you see is a sturdy black cardboard box with silver ONLINE embossing. Not a light or small cardboard box. When you open it, you find the sturdy box that holds the Timeless Wood securely.
Included are a converter, a piece of engraved wood and a booklet.
This piece of wood, just like that of the cap, is Kauri wood. This is also engraved on the piece of wood. But this piece of wood is not only good for that, it also has a recess at the top so that it serves as a stand for the fountain pen.
The booklet tells you more about the wood.
The fountain pen has a strikingly long cap and a much thinner barrel made of metal.
If you have removed this long cap, you can use the barrel with the rhodium-plated nib so directly.
Or if you put the cap on the barrel, you have, thanks to the length, a thicker fountain pen with metal grip zone.
About the Kauri wood
This is not wood that has been freshly cut. Because Kauri wood is under nature protection. Rather, this wood grew thousands of years ago in New Zealand and for reasons that are not entirely clear, fell down at that time. Masses of it. One assumes a storm or a flood. That in itself is not special. What is special is that this happened in a swamp, or a swamp formed very freshly. Because in this these logs were preserved and only for some time we know about this wood. This swamp kauri wood may be mined. Per year in small quantities. And is used among other things for this fountain pen.
A radiocarbon analysis showed that these logs are about 45,000 years old.
Currently growing kauri trees are protected and may only be felled by Maori for religious reasons.
The Timeless Wood in the hand
As mentioned above, the Timeless Wood can be used in two different ways. With the cap on, or without. This is possible with many fountain pens, but the difference is not as big as here. Either you have a narrow barrel or a slightly thicker "shaft". Completely after the own taste.
Since the barrel is made of metal, you don't have a pen in your hand that is too lightweight, even in the thin variants.
The weight distribution is pleasant in both cases. Thanks to the rather long cap, the distribution is quite normal for a fountain pen with the cap on.
The kauri wood feels very good to the touch. It is a satin finish.
The rhodium plated nib is comfortable to write with. It does not scratch and glides smoothly over the paper. Ink flow is good average, though of course this always depends on the ink as well.
With some pressure, you can also create a good line variance.
My impression of the ONLINE Timeless Wood
The fountain pen is something special. No matter how you want to look at it now. The cap made of wood, which is about 45,000 years old. A design with a very long cap and thus two almost completely different variants.
Combined with a good nib.
This combination together makes a good fountain pen.
A fountain pen that comes from a manufacturer that most probably only associate with school fountain pens. Even though I've already shown some special pens from this manufacturer here.
The nib can be interchanged with ONLINE's other nib modules, as with many of their high-quality fountain pens. They are simply screwed. And in the range, for example, there are also black nibs. Or also a gold nib. (Which is currently not listed in the store, but can certainly be ordered in specialized stores). However, the nib used already writes very well, and does not need to be replaced. You can, however, if you want to.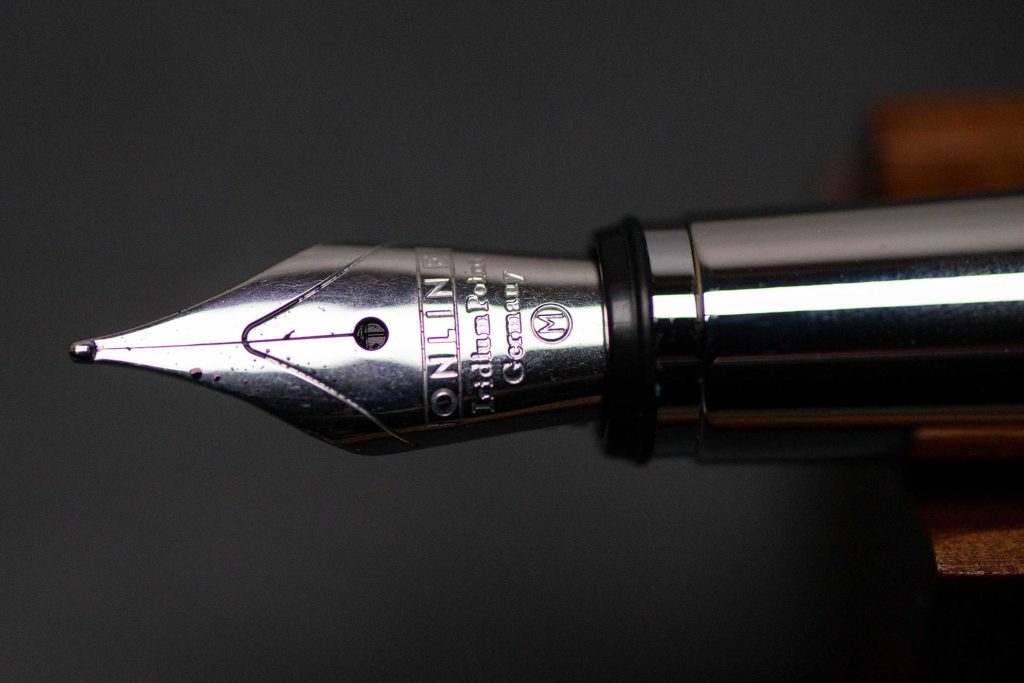 Personally, I like the fountain pen with the cap on better than without. For me, with large hands, he is so better in the hand. I like the nib. It is in no way inferior to other normal nibs.
Technical data
Weight (empty)
complete: 33 g
without cap: 16 g
cap: 17 g
Diameter
Cap: 14,3 mm
Barrel: 10,3 mm
grip section: 9,3 mm
Lenght
closed: 13,9 cm
without cap: 12,3 cm
cap posted: 15,1 cm
More
Closure: plug-on cap
Typ: Cartridge / Converter (standard international)
Video
There is also a video review of this fountain pen on YouTube from me in the channel. Just have a look.
Likes and subscriptions are welcome
Test Samples The product described here was provided to me by the manufacturer free of charge for this review. This was done without specifications and without influence on the article by the manufacturer. The opinion written here, whether positive or negative, reflects my own assessment.