Creating your very own ink color. It's not for everyone, of course, but anyone could do it with the ink mixing kit from Octopus fluids. With it, the ink manufacturer from Dresden, Germany delivers a practical and fun kit for the fan of fountain pens.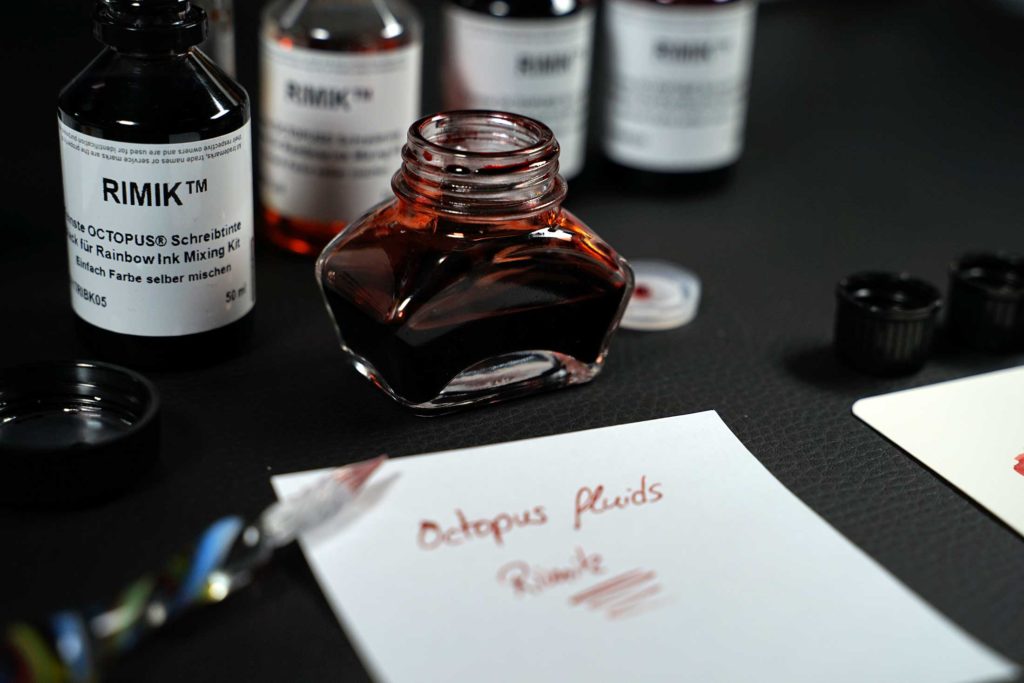 There is an almost unmanageable number of ink colors. So many suppliers and each with their own line of inks. And yet, such an ink mixing kit as the Octopus fluids RIMIK – Rainbow Ink Mixing Kit is a practical and great thing.
There are a couple of reasons why. One is that you want to have a completely custom ink color. Another would be because your favorite ink is no longer being produced and you want to try to replicate that. Or simply because you want to have fun.
The Octopus fluids RIMIK
The set comes in a plain white cardboard box. Only a small sticker reveals the contents and the manufacturer.
However, in the box you can find everything you need.
We have here four ink bottles of 50 ml, a small mixing jar, an empty ink jar and a pouch.
In the bag there are two gloves, four disposable syringes, four long cannulas and four swabs. The syringes and cannulas are sterile packed.
Last but not least, there is a note in the box with instructions on how to mix and a few examples and suggestions.
The colors are cyan, magenta, yellow and black. These make up the CMYK1A common color model in the subtractive color system and the basis of modern four-color printing. By the way, CMYK stands for Cyan, Magenta, Yellow and black/Key. color model, which you can then experiment with.
When you open the bottles, you notice that there is an insert here that is supposed to allow dripping directly from the bottles. It is still possible to use the syringes. The needles fit easily through these small openings.
Experimenting with the colors
Octopus fluids has actually included everything you need for mixing. Each color has its own syringe with cannula, so you don't have to wash them out in between. The needles are also long enough to reach the bottom of the large bottles.
However, these are pointed cannulas. So caution is advised!
In medicine, recapping, i.e. putting the cap back on the cannula, is usually forbidden because the risk of stabbing oneself is too great. This danger is real! Please pay special attention if you plan to do this after experimenting. What most of you will surely do, because you don't want to just throw it away, but use it again.
There are indeed blunt needles. However, so far I have only ever discovered very short versions2and use this on my syringes for fountain pen care, which is why I'm sure the "normal"/tip cannulas were used here.
This warning is unfortunately necessary.
If you are aware of the danger of such a pointed cannula and pay attention, this should go well. However, please keep children away.
The supplied swabs can be used, for example, to clean the tips of the needles. I have these however actually ignored.
Who wants to be sure not to have colored fingers also finds a set of gloves included.
The mixing jar and ink jar both have lids that seal well. They are good for mixing and storing the ink.
So you can really get started right away with this set. There are also a few mixing ratios on the slip right away to try out.
But of course there are almost no limits to your imagination and creativity.
You can generate almost any color with the kit and the CMYK colors. For some desired colors, however, this is certainly more difficult, in printing, for example, spot colors are used for this.
My experiences with the RIMIK
I recommend to experiment first in small quantities and then, when you have found a good color tone, to remix it in larger quantities.
For this, of course, it is necessary to remember the mixing ratio or to have it written down.
However, with a small test mixture, small deviations have a greater effect than if you then remix it in larger quantities. But you should not let this stop you. You save a lot of ink to get close to the desired color.
Almost any paper is suitable for testing the ink color. It doesn't have to be the good fountain pen paper. I used cardboard here, which is clearly not made for fountain pen ink. But you can see the color tone very well. That's all it needs to be at this point.
When it comes to creating a larger mixture, you have two options. You can use the possibility of the bottles to fill the glass directly by dropping. Or you use the syringes with the ml graduation.
With the direct dropping I had a problem. When I tried it, it worked fine with the yellow ink. Unfortunately, magenta refused. Unfortunately, this can happen with such dripping mechanisms. As you may know from medical bottles, this is simply a problem that the first drop falls so that the automatism takes on a life of its own.
However, I do not consider this to be a bad thing.
In my opinion it is much better to fill larger quantities with the syringe. The ml graduation is accurate enough here. And you can not miscount the amount of drops.
All in all, it is fun to experiment with the Octopus fluids RIMIK.
I haven't tried to imitate a specific color, but I like the ink I found for myself.
Writing with these inks is quite good and problem-free. So there is nothing to stop you from starting with it.
I would like to thank the company Octopus fluids for the set for testing.
Video
There is also a video review of this fountain pen on YouTube from me in the channel. Just have a look.
Likes and subscriptions are welcome
1

A common color model in the subtractive color system and the basis of modern four-color printing. By the way, CMYK stands for Cyan, Magenta, Yellow and black/Key.

2

and use this on my syringes for fountain pen care