The writing instrument manufacturer Platinum from Japan, with a wide range of products for almost every price range and taste. This is a review of two special products: a Maki-e fountain pen and a very fine nib.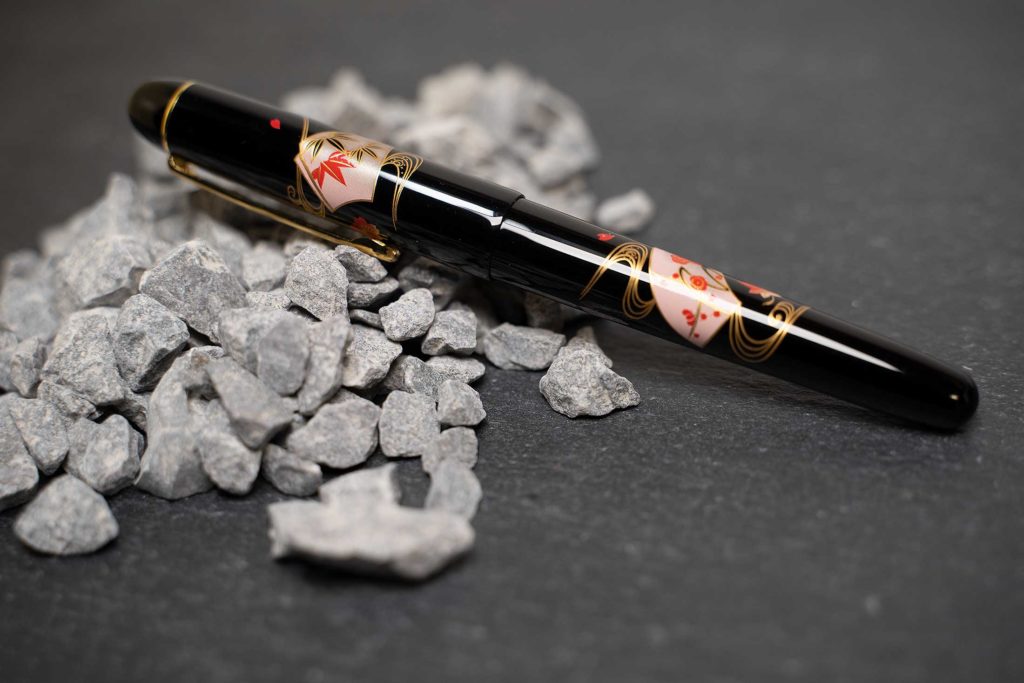 A fountain pen with Maki-e decoration and a UEF nib. Correct. A nib with the stroke width Ultra Extra Fine.
Normally this fountain pen is not available with this nib. But to be able to show you the two things, I got this fountain pen with this nib, which was specially equipped in the fountain pen for this test.
It is a fountain pen from the normal program of Platinum, and also a nib that is regular available at Platinum.
And both are stationery, which are in some way typical for Japan.
But more about that in a moment.
The Platinum #3776 Century Maki-e
Platinum presented the #3776 in 1978. A fountain pen that became, if you will, the backbone of the company.
The number "3776" stands for the height of Fuji, the highest mountain in Japan and the holy mountain in Shintō.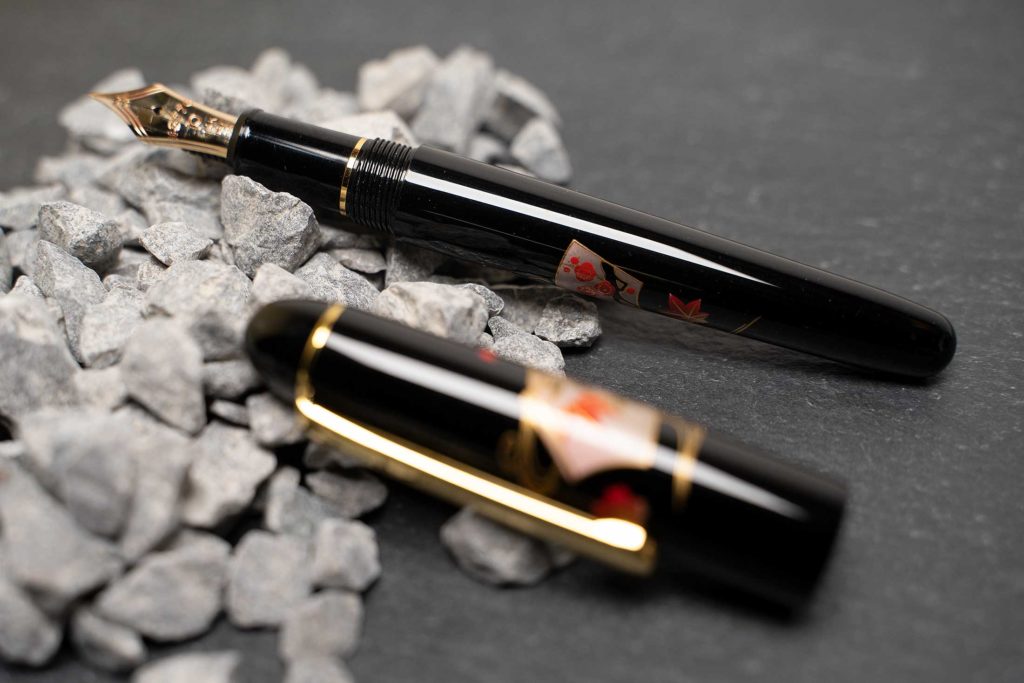 A few years ago, this original design, and the machines used to make it, were revised, and the result is the #3776 Century.
Maki-e is a Japanese lacquer technique whose origin dates back to before the year 800. There are different versions of this technique, but the common feature is that gold powder is used.
So it is a very Japanese fountain pen. The basic form is also to be regarded as quite classical. The special variant Maki-e is available in different designs. I have here the design "fan". With the Maki-e fountain pens, each fountain pen is finished by hand by a Maki-e master.
The #3776 Century Maki-e is made of synthetic resin and therefore belongs to the lighter fountain pens. The only decoration, besides the design of course, is the gold-colored clip.
Under the screwed cap is the 14k gold nib. Normally an F, M or B nib.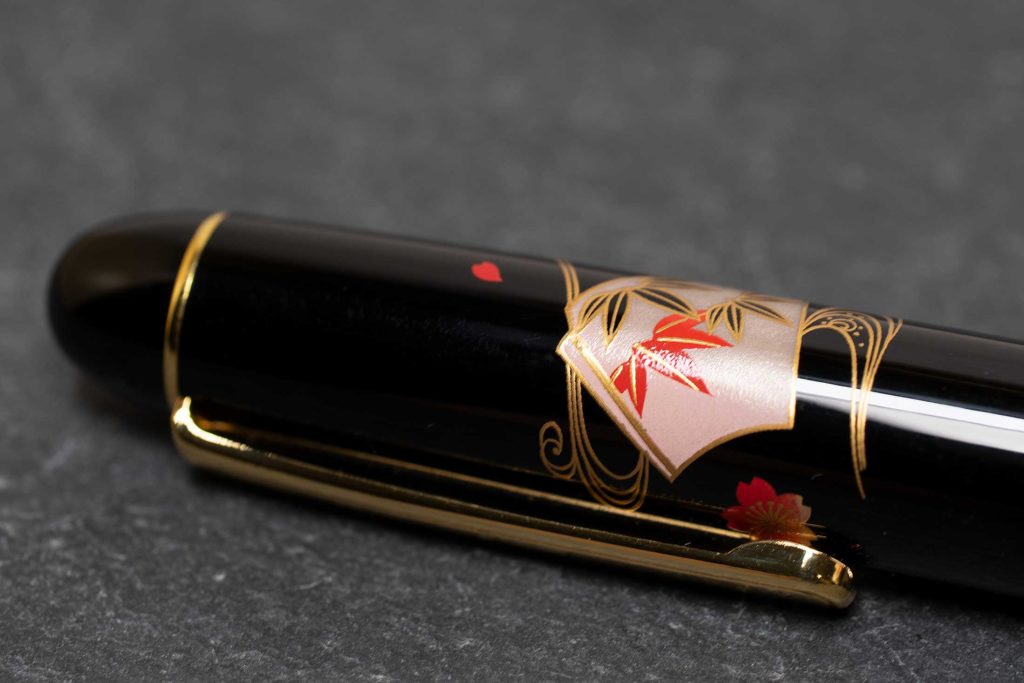 For me the fountain pen lies well in the hand. The barrel is a bit wider, so for fans of thin writing instruments it is not so optimal.
Very nice is also the "Slip&Seal" mechanism that Platinum has built into the cap here. This spring-loaded inner life in the cap seals the nib particularly well and ensures that the ink on the nib does not dry out so quickly. According to the manufacturer this takes about two years.
It is important to remember that no standard converter or standard cartridges fit into the Platinum fountain pen. Here the Platinum converters or cartridges should be used. I recommend, as for all fountain pens, the use of a converter. Especially since unfortunately the Platinum cartridges are not so readily available in most stores.
The Platinum UEF nib
This nib is not normally included in the #3776 Century Maki-e program. But it is a regular nib from Platinum.
The chance to show this nib was very good, so it was used in #3776 Century Maki-e especially for this post.
Because let's be honest: you rarely see a UEF nib.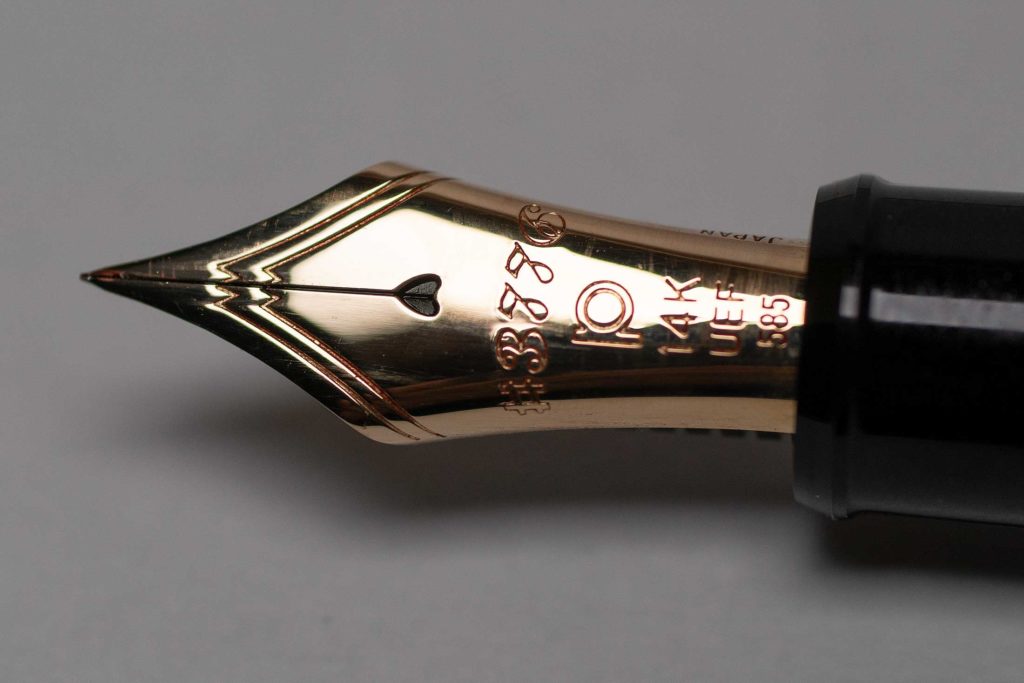 And here we are again in Japan. Not that the nib is often found there. But Japanese, or Asian nibs in general, are generally finer in line width than their counterparts in other countries. An Asian M is normally finer than a european M.
One reason for this is that finer nibs are better suited for writing the respective characters.
But UEF is still something special. Very special.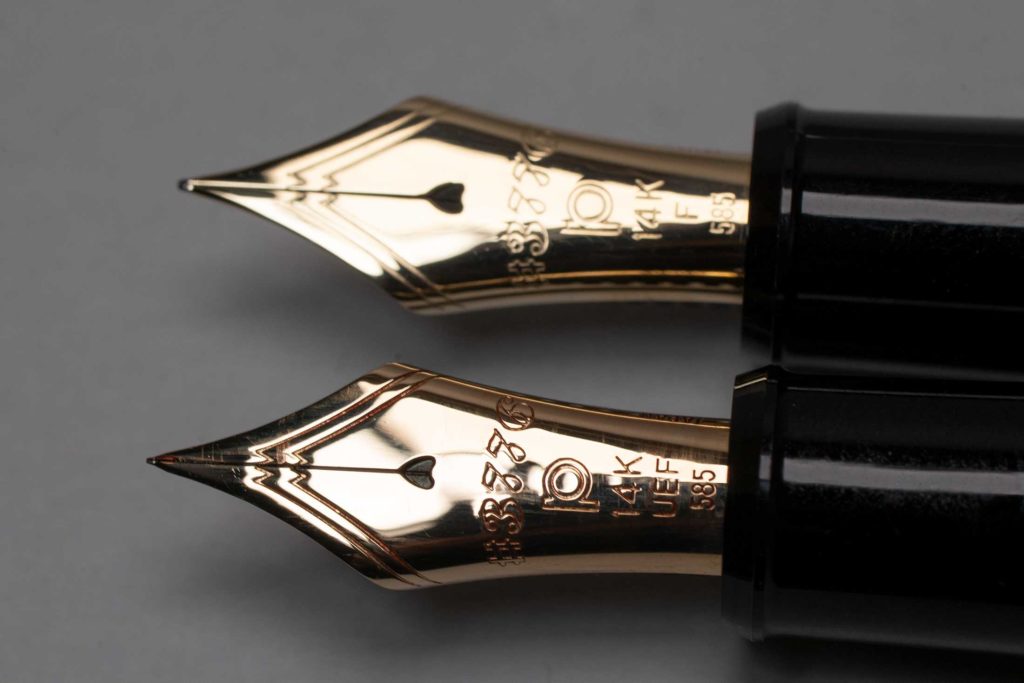 This nib is fine. Unique. And it makes it possible to write small letters. Really small. A large font is not really possible with it.
Such a fine nib requires of course a correct posture and use. And an M nib as an example has more material so that it glides smoothly over the paper. The UEF nib does not glide so softly. But it does not scratch either. I have had M nibs before, which were worse than this UEF nib.

To be exact: I am very impressed by how beautifully this nib writes.
Effectively, this is a sign of the skill of Platinum. It is not easy to produce such a reliable nib, no matter how well it writes.
Oh yes, and it is a heart-hole nib.
My thoughts
This post is a little bit different than usual. This is simply because it is two products in one that I am showing here. And I'm very fond of both.
The fountain pen lies well in the hand and with this size you can easily write for a long time.
There are different designs of the #3776 Century Maki-e fountain pens from which you can choose your favorite.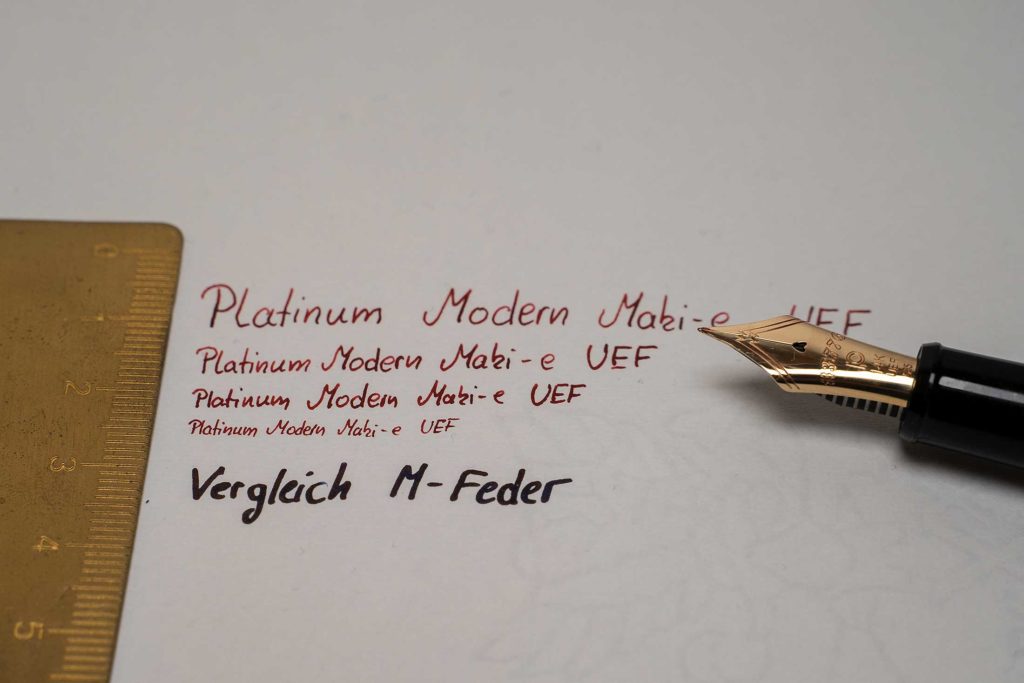 The nib is of course not for everyone. Let's be honest. If you love very fine nibs, you should try them. If you prefer to write a B-nib, apart from a certain "aha" effect, you will certainly not like such a nib in the long run.
But: it writes really well. And small.
Did I already mention that this nib writes small?
Video
Together with this post I made a video on YouTube for this fountain pen and nib.
You are welcome to subscribe to the channel, there will be coming much more. (Direct subscription)
Technical data
Weight (empty)
complete: 19 g
without cap: 10 g
cap: 9 g
Length
closed: 140 mm
without cap: 120 mm
cap posted: 154 mm
Diameter
cap: 14,4 mm
barrel: 12,8 mm
section: 10,4 mm
More
Closure: screwed
Type: cartridge / converter (Platinum)
Note:
On the pictures I use the term "Modern Maki-e". This is unfortunately not quite correct, because this is another series of Platinum. It is clearly a #3776 Century Maki-e. The use was made for the sake of simplicity. Especially since the writing sample is only used to show the capabilities of the UEF nib.
Test Samples The product described here was provided to me by the manufacturer free of charge for this review. This was done without specifications and without influence on the article by the manufacturer. The opinion written here, whether positive or negative, reflects my own assessment.